Introducing EMV® Technology: The New Standard in Card Security.
Your MCU credit MasterCard® now includes chip-enabled technology. As chip technology will soon become the security standard in the U.S., many merchants are beginning to accept chip cards and we want you to be ready. You'll enjoy greater security when making purchases at a chip-enabled terminal since the chip provides better protection against counterfeit fraud.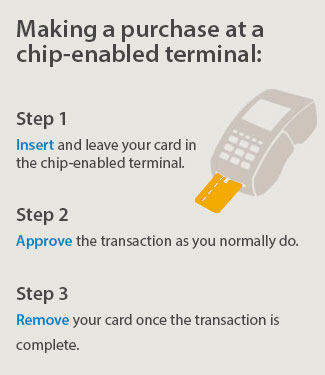 Easy to use
Use your personal chip card to make transactions at the same places you do today. For merchants who have chip-enabled terminals, insert your card and approve your purchase. Otherwise – swipe your card as you normally would.
Added layer of security
The new chip on your card provides additional security when used at a chip-enabled terminal. Data stored on the chip is more difficult to counterfeit.
Accepted anywhere
Chip-enabled terminals are coming to stores throughout the U.S. so you'll be ready to use your card when you see the new terminals. You'll enjoy greater acceptance when traveling as chip cards are common in over 130 countries around the world, including Canada, Mexico and the United Kingdom.



No extra cost
Enjoy your new card with chip technology at no additional cost.

Contact us for more information
Call us at (713) 778-6300 or stop by a branch if you have additional questions about chip cards, or if you are interested in opening an account.