---
Debit CardEMV Chip CardLost or Stolen Cards?
Debit MasterCard® 
Memorial Credit Union has transitioned to the EMV Chip Debit MasterCard®, a safer and smarter debit card that offers a new layer of protection against fraud.

Enhanced Security
Your debit card features advanced EMV Chip technology.  This new chip-based technology provides enhanced layer of security to your transactions, and makes your new chip card extremely difficult to counterfeit. 
Card Still accepted at Non-EMV Terminals
In addition to the embedded microchip.  MCU cards also have a magnetic stripe on back. This way you can continue to make purchases at merchants who do not yet have EMV card terminals by swiping your debit card.

---
Convenient

Accepted wherever the MasterCard® logo is displayed

Convenience access to your checking account

Easier than writing a check

Free ATM access at all MCU ATMs and our ATM Friendly locations

Secure

Protects you from unauthorized purchases with Zero Liability Policy with MasterCard®.

24-hour assistance with Lost/Stolen Card reporting

Secure EMV chip technology for enhanced fraud protection 
---
Debit Card Rewards
We offers thousands of opportunities to get cash back just by using your MCU Debit MasterCard®. You can earn up to 10% cash back and save on your purchases at the most popular national brands, plus your favorite regional and local retailers too! Offers are available both in-store and online. Best of all, IT'S FREE.
Learn More
Members who qualify are eligible for our Debit MasterCard®. Don't wait. Get your MasterCard® Debit Card today. To apply, simply visit your nearest Memorial branch or call 713-778-6300.
Introducing EMV® Technology: The New Standard in Card Security.
Your MCU debit and/or credit MasterCard® now includes chip-enabled technology. As chip technology will soon become the security standard in the U.S., many merchants are beginning to accept chip cards and we want you to be ready. You'll enjoy greater security when making purchases at a chip-enabled terminal since the chip provides better protection against counterfeit fraud.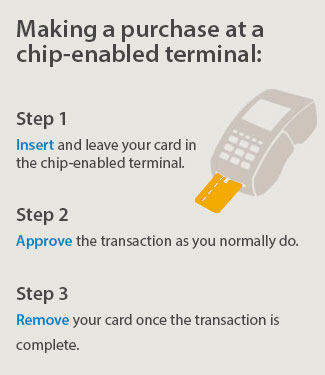 Easy to use
Use your personal chip card to make transactions at the same places you do today. For merchants who have chip-enabled terminals, insert your card and approve your purchase. Otherwise – swipe your card as you normally would.
Added layer of security
The new chip on your card provides additional security when used at a chip-enabled terminal. Data stored on the chip is more difficult to counterfeit.
Accepted anywhere
Chip-enabled terminals are coming to stores throughout the U.S. so you'll be ready to use your card when you see the new terminals. You'll enjoy greater acceptance when traveling as chip cards are common in over 130 countries around the world, including Canada, Mexico and the United Kingdom.



No extra cost
Enjoy your new card with chip technology at no additional cost.

EMV Chip Frequently Asked Questions
FAQS
Q.  What is an EMV Chip?
EMV stands for EuroPay, MasterCard®, VISA® and it represents microchip technology in your card that increases security. The EMV Chip Card originated in Europe and has been instrumental in preventing the spread of credit and debit card fraud. EMV Chip Card technology is different than the typical magnetic strip card. It's far more secure and your safety is a priority for us. The microchip enhances this process by providing dynamic data at the time of use that cannot be known by someone who steals your card or card number.
Q.  How is the Chip Card more secure?
The embedded microchip provides unique data specific to your card and the transaction being processed. These security features make your new chip card extremely difficult to counterfeit.
Q.  Why is my card being upgraded to a Chip Card?
Chip technology is already used in other countries and is now coming to the U.S. Your new chip-enabled card provides an extra level of security and is easier to use at places already chip ready.
Q.  Can I use my card for everyday transactions or at Non-chip terminals?
Yes! Your chip card will also have the usual magnetic stripe on the back so you can continue using your card at ATMs and Point of Sale Terminals while merchants in the U.S. are transitioning to new terminals.
Q.  What information is stored on a chip?
The embedded chip stores information required to authenticate, authorize, and process transactions. This is the same type of information that is stored today on the magnetic stripe. No personal information about your account is stored on the chip.
Q.  Can I still swipe my card?
Yes. If a merchant so not yet chip-activated, simply swipe your card and enter your PIN.  Or select CREDIT and sign for your purchase, if necessary.
Q.  Has my PIN changed?
No. You can still use your same PIN with your new card.
Q.  What should I do with my old Memorial Credit Union VISA debit card?
Once you activate your new card, please destroy your existing card for security reasons.
Q.  Now that I have a chip card, should I continue to notify Memorial Credit Union before I travel internationally?
Yes, we recommend that you set a travel notice on any credit card(s) you plan to use while traveling so your card access isn't interrupted.
Contact us for more information
Call us at (713) 778-6300 or stop by a branch if you have additional questions about chip cards, or if you are interested in opening an account.
---
Important Card Information:
Lost/Stolen Debit MasterCard® Contact your local branch or call 24/7 services at

(800)-528-2273

Debit MasterCard®Customer Service:  

(800)-851-4859

Debit MasterCard® & ATM Activation  

(866)-619-0245  

Debit MasterCard® & ATM Pin Change  

(800)-851-4859
Cardholder Disputes
If you have a transaction dispute on your Debit MasterCard®, you will need to collect the following items to bring into your nearest branch in order to submit the dispute:
Debit Card Dispute Form
---